2021
Little Rotters - 24th October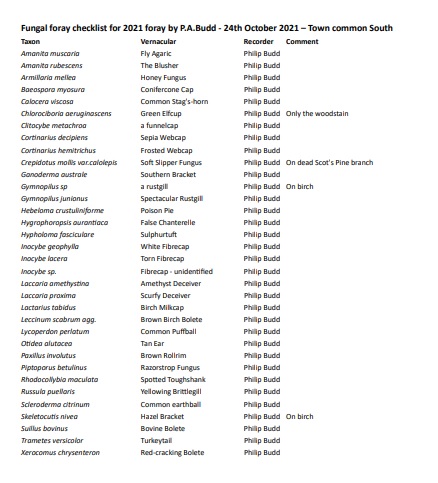 Spider Hunt - 11th September
Insect Ramble - 31st July
This butterfly is a Silver-Studded Blue which is specific to Heathland habitats. It has a very interesting relationship with ants on heathland - The ants take the caterpillars underground to their nests and protect the caterpillars from predators and parasites, in return they get to feed on a sugary substance that the caterpillars produce.
These caterpillars were very popular with some of our younger attendees! One is a sawfly caterpillar that makes a loop and another as yet unidentified species.
Photos taken on the ramble by Sarah Davis, Seasonal Landscape & Countryside Officer, Community & Open Spaces
It's a Wonderful night for a Moondance - 19th June
On the FSCH walk we saw and heard 2-3 birds. (Unfortunately fireworks were let off that night!) The photo shows the white markings of the male bird on both the wing tips and tail edges. It is estimated that there are 12 pairs on the wider site, all of which nest on the ground and are very vulnerable to disturbance.
These images are from last week, taken on another BCP heathland site in Poole, where ringing and radio tagging of birds took place (under a special licence), to better understand how they utilise all the local spaces.
2019
Fun Quiz night - 11th December
Fungal Foray with Dorset Fungus Group on the 3rd November
| | | | |
| --- | --- | --- | --- |
| | | | |
| | | | |
| | | | |
| | | | |
Field Trip to Hengistbury Head to see the Natterjack Toad - 28th April
Early morning Bird Walk - 21st April
2018
Fun Quiz night - 12th December
Litter Pick 13th October 2018
We were rewarded with donuts! - click on the image to enlarge it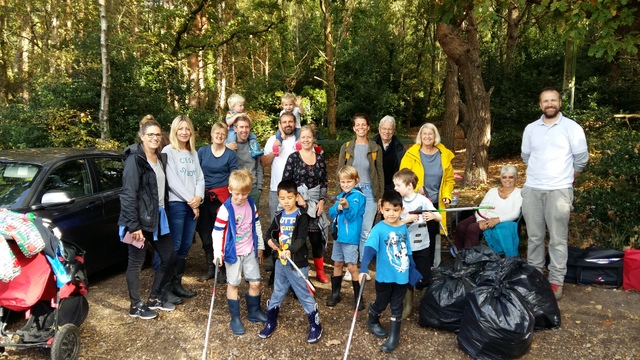 Fungal Foray with Dorset Fungus Group on the 30th September
These were photographed by Jackie Smith - click on an image to enlarge it
Field trip to Sopley Common on the 14th July
About eleven people joined site wardens Andy Fale and Rose Proctor for exploration of Sopley Common. From the start we were given safety advice due to the heat and were then given a talk on the 3 species of lizard and 3 species of snakes to be found on the site. Starting from the Ramsdown car park we took a winding course to examine a usually boggy area. There were stops to view blue butterflies and different species of moths on the heather before arriving at the first pool. Of course this had dried up but that didn't spoil examining dragon flies and looking at sundew. Andy was asked if the heat would endanger the lave of dragon flies that may hatch there. Climbing to the ridge where there is a tumulus, we walked left to a patch of heather which had been bulldozed to bare sand. Andy explained this was not vandalism on their part but an effort to create a sandy stretch of land where solitary wasps and bees could make a home. Bare patches of sandy soil are a rarity on the site. He also told us about the Tiger Beetle which frequented the heather. We then looked over the ridge to the lowland at the far side of the common to view the ponds there. On descending to the bottom of the hill not a drop of water was to be found in the pools. The group stood on the spongy pool bottom and returned up the hill. However this did not prevent the trip being enjoyable!

Dave Mariner


Sundew Plant

Holes made by solitary wasps or bees